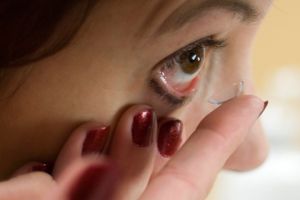 Learn How Contact Lenses are Made
Contact lenses are immensely popular, with a wide variety of types to fit almost every individual and their vision condition. New materials and modern technology have led to increased comfort, higher convenience, and sharper vision with contacts. In response, many people are now making the switch away from wearing eyeglasses for vision correction. At CustomEyes, our expert optometrist, Dr. Scott Drake, performs eye exams and fittings for contact lenses regularly.
How & What Are Contact Lenses Made Of?
There are two main types of lenses: Soft Contacts, and Rigid Gas Permeable (RGP).
Soft contact lenses are usually manufactured by a process called injection molding. The lens material is heated until melting point and then injected into a mold. Once the material dries, it takes on the contact lens shape of the mold. Sometimes, extra material must be removed before polishing this lens.
Most of the time, hydrogel is used as the material for soft lenses.
This polymer is very water-absorbent, and a high water content allows more oxygen to reach the eye. Some soft contact lenses contain as much as 70% water! One drawback is that a high quantity of water also increases the size of the lens, which some people find irritating.
Less water leads to a thinner, more comfortable lens.
Soft lenses made from silicone hydrogel are newer on the scene. This advanced materials enables increased oxygen permeability without the added size of larger lenses. Many of our patients in Lenexa, Kansas, report high comfort satisfaction with their silicone hydrogel lenses.
Rigid gas permeable lenses are sculpted into shape with the aid of specialized lathe cutting tools. Lens material is carved into a precision-cut lens and then polished. The level of accuracy and precision used to make RGP lenses is superior to soft contact lenses. In general, this process is therefore used for more complex lens prescriptions and shapes, such as progressive lenses.
Hard contact lenses are composed of hard polymers (plastics) that have a naturally high porosity.
Therefore, a large quantity of oxygen reaches the eye efficiently – without any water content in the lens. Flourine is added to RGP lenses to enhance oxygen permeability, as it acts to form microscopic pores in the solid lenses. This facilitates long-term, healthy wearing of hard lenses. After an adjustment period for your eyes to adapt to hard lenses, you'll benefit from crisp visual clarity.
How Are Colored Contacts Made?
Colored contacts enhance or change your look with a new eye color. Typically, advanced color technology is used to tint the area of the soft contact lenses that covers the primary pigment of your eye.
While your eyes will appear different to others, your clear and transparent vision won't be affected. Available only by prescription, our Lenexa optometrist will help you choose the most appropriate colored contacts for your eyes!
Where Can I Find Quality Contact Lenses Near Me?
In addition to answering your questions about how contact lenses are made, our Lenexa team is pleased to answer this question too!
If you're looking for an alternative to eyeglasses, our optometrist will perform a thorough eye examination for contact lenses.
We'll fit you with the ideal lenses – either soft contacts, rigid gas permeable, and specialty types, such as progressive lenses and colored contacts – in our hi-tech office.
Call CustomEyes on (913) 894-2020 in Lenexa, Kansas to schedule an eye exam with our optometrist, Dr. Scott Drake.
FOLLOW US
Alternatively book an appointment online here CLICK FOR AN APPOINTMENT
-----------------------------------------------------------------------------------
How do I choose my family Optometrist ?
SEO Title : Choosing Your Family Eye Care Practice, Lenexa, KS
Description : CustomEyes's Optometric professionals are waiting to hear from you - Call Now (913) 894-2020
Keyword : eye care
CustomEyes provides much more for your eyes than eyeglasses and contact lenses!
Our optometrist Dr. Scott Drake, in Lenexa will examine, monitor, treat, and manage your ocular condition – so you reap all the lifelong benefits of lasting, quality vision. When it comes to choosing the best eye clinic for your family, you need to make sure that all your vision and eye health requirements are satisfied. To make it easy for you, here are the top 5 things to consider when choosing a first-rate eye care practice:
What are your eye and vision care needs?
Do you need primary care, such as vision testing, eyeglasses, and contact lenses?
Or do you need more advanced eye care for ocular disease treatment? You should know the basic eye care services that you require, before selecting a specific optometry practice. (Be aware that every state has different regulations about the services that an optometrist is authorized to provide.)
In addition, a range of high-tech optometric equipment exists, and it's important to verify that the optometry office is equipped with the best technology for your needs.
What credentials and/or specialized training does the eye doctor have?
Diplomas, training credentials, and/or licenses should be hung prominently in the office or waiting room of every eye care clinic. If you have a challenging vision prescription or unique eye health needs, it's important to verify that your eye specialist is qualified and experienced in your condition.
How much professional experience does the optometrist and office staff have?
You want an optometrist who is knowledgeable and experienced, as well as an office and optical staff who knows how to provide ultimate eye care!
A top-notch office staff will be able to schedule you with the right appointments and help you understand your medical health insurance or vision insurance policy. Experienced opticians will make the best recommendations for eyeglasses that match your face and vision prescription.
How accessible is the eye doctor?
Don't compromise on quality or convenience! Your optometrist must be available for all of your patient needs, from performing vision testing and eye exams to providing management of ocular disease. Check the hours of the eye care clinic, and ask about how to get in touch in case of an eye emergency.
Is the eyewear collection large and high-quality?
Your eyeglasses and contact lenses need to be durable, fashionable, and provide a good fit for your individual needs. Nowadays, there is a wide range of eyeglasses and contacts available. Many optional lens coatings and treatments are also possible, and contacts come in a variety of specialty types for hard-to-fit patients.
Why limit your selection to only a few types, styles or brands? Check to make sure that the optical collection offers a full inventory of quality frames and premium contact lenses for your whole family!
Call CustomEyes on (913) 894-2020 in Lenexa, Kansas to schedule an eye exam with our optometrist, Dr. Scott Drake.
FOLLOW US
Alternatively book an appointment online here CLICK FOR AN APPOINTMENT