Welcome to CustomEyes – Great Eyecare in Lee's Summit, Missouri & Lenexa, Kansas
When it comes to eye care and eyewear in Kansas City, you have more than a few options. Why do so many people choose CustomEyes? We believe it boils down to comfort, care, and convenience.
At CustomEyes, patients never feel like just a name or the next appointment. Everything about the experience is tailored to you and your eyes. Our expert optometrists and experienced staff get to know you and understand your unique needs. The finest technology, a complete selection of eyeglasses and contact lenses, and convenient locations don't mean much unless you, the patient, get the care you need and the attention you deserve.
With offices located in Lee's Summit and Lenexa, CustomEyes is able to service the greater Kansas City Area including Johnson County, Kansas (Leawood, Overland Park and Shawnee Mission) and Jackson County Missouri (Blue Springs, Independence, Raytown). So, whether you need an eye doctor in Kansas City, Lenexa or Lee's Summit – CustomEyes has you covered.
We've Moved!
Our Lee's Summit office moved to a bigger space just down the road at 3660 NE Ralph Powell Rd. Come check it out!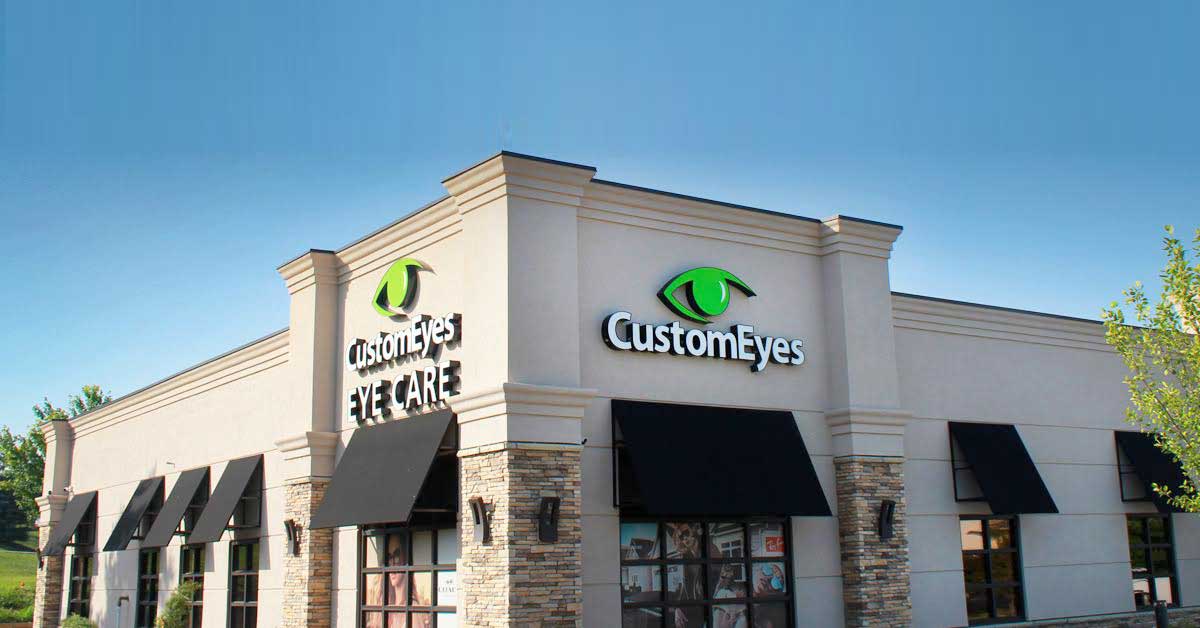 Excellent customer service. Will continue using them for all our family's eye care needs.
- Ronda N.
Scott Drake has been my optometrist for more than 20 years. Great service!
- Randy S.
New place. Should have good reviews.
- Ron N.
I've been seeing eye drs for 40 yrs(since I was 5) and this office is the best. The staff is always so helpful and nice.The Drs are great and very easy to talk to. They have the best customer service I've ever seen in any type of drs offices. I wish I would have known of them earlier, and I've been going to them for 4 yrs now. This office is Efficient, Courteous and always so Helpful......
- Angie Y.
I had an excellent experience at Custom Eyes in Lenexa Kansas. I previously worked as an optician and have a great understanding of how the process works. I did have an experience at a competitor of theirs in 2016 which was disappointing. The customer service was excellent, from scheduling my initial appointment, all the way to dispensing my new eyeglasses. I recommend Custom Eyes without any reservations.
- Kurt G.
Cannot say enough good things about this office. Dr. Scott Drake is the best doctor I've ever had, for my eyes and in general. His staff is freaking amazing. I have a complex eye situation and Dr. Drake and his staff treat me like family. Dr. Cossette is also awesome by the way:) I hate to be moving out of state, I already miss Custom Eyes and will probably travel back as needed for eye care just to keep him as my doctor. Thank you so much for your patience, diligence, and brilliance!
- Katherine W.
Everyone is very friendly and helpful. I have been going here for the past 8 years.
- Harman T.
We carry the latest European and American designer eyewear collections in a variety of styles, colors and materials for all of your lifestyle needs.
With daily disposable contact lenses, you are able to experience crystal clear vision every day, without worrying about cleaning and storing your lenses.
CRT can help you improve your vision while you sleep! Imagine waking up, working, playing & living through a full day without using any vision-correcting lenses!
Dr. Scott Drake Answers Your Questions About Contact Lenses
Q. What is the difference between an eye exam geared towards wearers of glasses and an eye exam geared towards wearers of contact lens?
A. A comprehensive wellness exam, which potentially includes a prescription for glasses, entails examining the health of the entire eye. This may include dilating the eyes. It also includes evaluating the behavior in which the eyes focus and work in concert together. An exam for contact lens wearers or new wearers of contacts includes all of the above, plus an evaluation of the way the contact lens centers and moves on the eye and how it affects or has potential to … Read More
What's New at CustomEyes?
EyeZen Lenses for Digital Viewing
Americans are using digital devices more and more every day. 90% of Americans use digital devices more than two hours a day. According to the American Optometric Association, 83% of children 10 to 17 years old use electronic devices for 3 or more hours a day.
Continued use of these devices can lead to eye strain, dry eyes, blurred vision and overall fatigue.
CustomEyes has adopted a new lens technology aimed at reducing eye strain associated with the use of electronic devices. The lenses, called Eyezen, help you see comfortably regardless of the device size and the distances you hold them. In addition, most screens emit harmful blue light. Eyezen lenses reduce exposure to blue light.
This new technology is available for all ages, children to adults. Ask your CustomEyes optician to discuss the advantages of Eyezen technology.
Our practices have tried to give back to our community through charity events, donations and volunteering. KCFEC allows me to expand upon these efforts by providing eye care to individuals who do not have the ability or means to obtain care in a more traditional office environment. I feel blessed to be part of the Kansas City community and providing eye care at KCFEC is the least I can do to show my appreciation.
CustomEyes treatment of Contact Lens Discomfort & Dry Eyes in Lenexa, Kansas
Dry Eye Syndrome, termed keratoconjunctivitis (KCS) refers to dry eyes that irritate you constantly. This annoying condition is due to insufficient production of tears or a poor quality tear composition. When your eyes aren't lubricated well, you'll suffer from the sensations of scratchiness, burning, watery eyes, blurred vision and/or a feeling of something gritty stuck in your eyes. The particular cause of dry eyes varies from person to person, and effective dry eye treatment is therefore also highly individual
Symptoms of dry eyes include redness, scratchiness, itching, a sensation that something gritty is stuck in your eye, excessive watering and the need to keep rubbing your eyes. While there is no cure for dry eyes, our goal is to bring you lasting relief. Additionally, if you are considering LASIK, dry eyes may prevent you from being a good candidate for this refractive surgery.
Many people love the convenience and quality vision of contact lenses. If you are interested in wearing lenses instead of eyeglasses, we'll help you with all that you need. At CustomEyes, our eye doctors will examine your eyes to determine if you're a good candidate for contacts, and we'll fit you with the best type for your visual requirements.